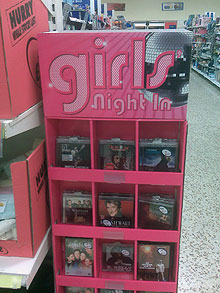 Hey — call the girls, let's have a night in! Let's get our 'Sex And The City' 'box sets' and some 'white wine' and oh no we really shouldn't but oh go on then let's be naughty, let's get some chocol­ates!! Sod the diet!!!! You were too good for him anyway!!!!!!
That's right viewers, Tesco are encour­aging us all to have a girls' night in.
As you can see from this attract­ive pink (pink = birds, remember) display, there's a bit of Rod Stewart, some Westlife, a bit of James Blunt, some KT Tunstall…
This is going to be the greatest girls' night in ever! Let's make a night of it and get the Ally McBeal box set as well!!!
OH NO! Who invited grumpy-pants?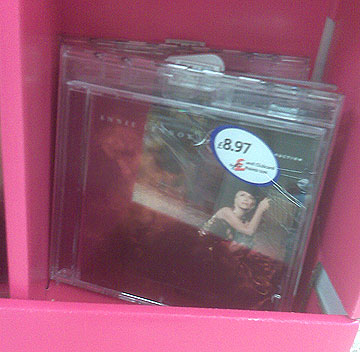 Oh dear, Annie 'Not Dropped By Her Label' Lennox is at the door.
"Hi girls, having fun?"
"Hi Annie. Yes thank you."
"Well I just wanted to tell you about my important 'n' serious album 'Songs Of Mass Destruction'. Songs can be so powerful and in a way they are very like bombs in that respect you see."
"Annie I don't think you should come in."
"Give me five pounds or a child will die of AIDS."
*Door slams*