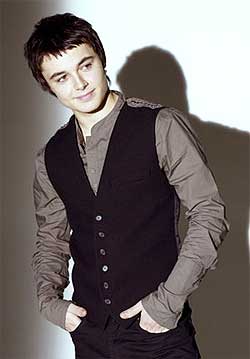 It is sad that Leon Jackson has been dropped after one album, but on the grand scale of things it's not really that sad. If the full gamut of sadness was resp­resen­ted by a car journey from London to Edinburgh, Leon being dropped is a bit like checking your petrol as you pull out of your driveway.
Here are just a few (all) of the many (not many) tributes we've received over Twitter.
@hertbeat: "What was lovely about Leon was that here, finally, was a winner whose song, as a radio station, we really didn't have to play."
@raaar: "I suppose what I'll miss most about him is the innate charisma"
@Mumbosteve: "Sucking his teeth on this years X Factor. Also, he has done more for the sale of cheap suits than anyone else recently."
@cripesonfriday: "Being dropped is but a stumble on life's path, Leon will rebuild & be back stronger,like Jesus, except quicker and through pop."
@jaxvpr: "Or how about his nervous Alzheimers shaking on stage, and his awful disco Relight my Fire?"
@jaxvpr: "First day he went into the audition room,Sharon Osbourne asked who he was with, he replied,I came on my own, then cried!Classic!"
@6weeksatnumber7: "my saddest memory was realising Syco hadn't set Leon up with a twitter account following Lil Wayne — writing was on the wall"
@BallyAmes: "I think I'll pull through"
@DiscoIgor: "I remeber when leon made me cry… for his lack of per­son­al­ity. That was moving."
@WadeyWade: "*rattles anti­de­press­ants* You mean, being a con­test­ant on Dancing On Ice 2010 WASN'T part of the album campaign? (sniff)"
@candoodles: "who is this leon jackson you speak of?"
@EmmaMarieJo: "I met him once when I was working in Leeds with Leigh Francis. [Leon] kept quoting Bo Selecta at him. Very lovely though."
@timchipping: "I remember he always seemed very normal."
WE WILL NOT FORGET.