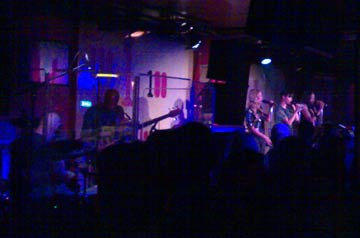 This TERRIBLE picture (that's the last time we use that pho­to­grapher etc etc) depicts the Sugababes doing a very special 'secret' gig last night at the 100 Club.
The 100 Club is legendary for something involving punk and to reflect this special heritage has been legally prevented from doing up its toilets since 1977.
The idea of the pop concert was that the Sugababes would perform all the songs from their greatest hits album (let's not go over the whole 'New Year' fiasco again) and that is exactly what they did. We have seen Sugababes 1.0, 2.0 and 3.0 on various occasions over the last half decade and last night's show was the best of the lot — Amelle com­pletely stole the show and you can't go wrong with one of the best singles groups of the last few years doing 'all the hits'.
Even the live drummer didn't bollocks it up, and it's a rare that one is able to say that with a straight face.