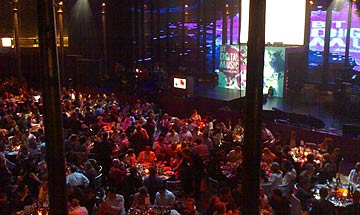 We went to the BT Digital Music Awards last night, except a) we were only in the plebs balcony bit and b) we had to leave early because there was other important pop business to be done.
Lil' Chris opened the awards (or was it Captain? We were drunk by the time the bloody thing started) and the guitarist in The Wonderfuls, the band who won the unsigned category, was quite good to look at.
Popjustice did not win the Best Music Magazine category so we have no altern­at­ive but to bring to your attention the fact that the whole evening was a complete farce and must have been rigged.
(Well done NME.)