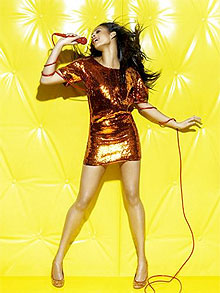 1. Ladyhawke
Did we mention that her album's quite good? ('One of the best albums of the year' sort of good?) It's pre-orderable on Amazon for £5.98 which, however you look at it, is a bit of a bargain. EDIT: Popjustice viewer Stuart points out that Play.com have got it for £5.99 including P&P, which is even more of a bargain.
2. Alesha Dixon (pictured)
Alesha's new single, 'The Boy Does Nothing', is out in November and will knock your socks off.
3. Keane
New album 'Perfect Symmetry' has the best opening three tracks of any Keane album to date; proper comeback single 'The Lovers Are Losing' is almost too stu­pendously brilliant for human minds to comprehend.
4. Uh Huh Her
We have been enjoying their 'Common Reaction' album quite a lot over the last few weeks — hear some of the duo's tracks on their MySpace…
5. Parralox
If you missed their track 'Electricity' as Song Of The Day we advise you to pop over to their MySpace where they feature a megamix (HURRAH) of tracks from their quite brilliant debut album…
666. 'Noah & The Whale'
Indie is making some unpleas­ant noises in its death throes, is it not?
Anyone you'd like to see on the Popjustice Almighty? Let us know…