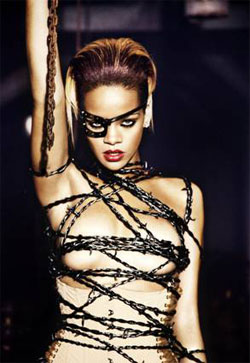 » It's called 'Russian Roulette'.
» It opens with some 'axe action'.
» It opens with some REPORTED SPEECH: "'take a breath, take it deep, calm yourself' he says to me". Quite good.
» It's actually about playing Russian roulette. There is talk of bullets and triggers and so on. Considering radio edited out a reference to Russian roulette in Lady Gaga's 'Poker Face' we're not sure how well this will go down.
» It is all quite tense. "You can see my heart beating, you can see it through my chest, I'm
terrified but I'm not leaving, I know that I must pass this test." There's chat of life flying towards you and so on.
» Just when it's all starting to make sense and you're over the fact that it's a ballad and not a massive balls-out techno monster, it ends with a gunshot.
» It's all very odd. It sounds like it might end up becoming rather good though.
The song has just premiered live across the world — here's that widget thing we mentioned earlier. Click inside to hear the track.


A grower, we reckon.