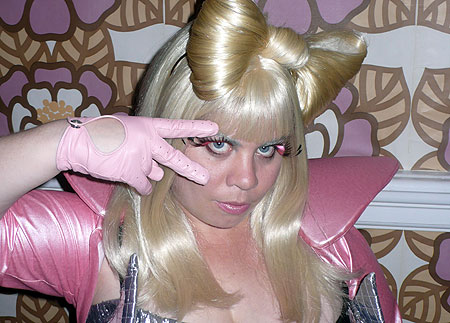 When we heard that comedian Katy Brand was back with a new TV series we weren't surprised to hear that she would be 'lam­poon­ing' Lady Gaga. Lady Gaga is an artist who very quickly tran­scen­ded musician or simple popstar status and is now simply a part of mass pop culture, meaning that she is a perfect subject for someone like Brand whose gags play on recog­ni­tion as much as (or more than) actual jokes.
Here's the clip. It's an amusing (WARNING: NOT AMUSING) parody of 'Just Dance', and it's called 'No Pants'.
httpv://www.youtube.com/watch?v=U1bLNRCo7_Y

Those lyrics, if you missed them:
I'm in the papers far too much
You're wondering why there's all this fuss
An under­dressed little blonde
Singing this dumb little song
Haven't we seen all this before
I'm Number One in the download charts
You bought this record but you can't remember why any more
Keep asking how
This lady's so big
Then you remember it's because I'm wearing no pants
We've mentioned this briefly before in relation to something in Katy's last series, but while one shouldn't expect a
female comedian to be all about 'con­scious­ness' simply because she is female, it sometimes seems slightly peculiar that someone who made her way through the notori­ously male-skewed comedy world should be quite so bold in her quest to devalue females in another, again quite female-unfriendly industry. Does Katy Brand really think that Lady Gaga really only scored an inter­na­tional Number One single with 'Just Dance', then went on to follow it up with millions of further record sales in a variety of ter­rit­or­ies, simply by wearing no pants? Brand cannot actually think this or the logic of parodying the song, its melody, its structure, its pro­duc­tion and its lyrics simply collapses. In parodying the song Katy Brand admits that it is memorable and that Lady Gaga's success is not, in fact, simply down to wearing 'no pants'. As for the snotty 'under­dressed little blonde' with a 'dumb song' com­ment­ary — well, if Brand is hoping to point out that Lady Gaga is somehow stupid, she might want to steer clear of jokes about toilets and pooing. Quick pointer: if you're going to call someone stupid, make sure you're not more stupid than they are.
The other point is that Katy Brand saying 'havern't we seen this all before' puts her on slightly thin ice, because the answer is well yes we have — when French & Saunders did it, when Smack The Pony did it, when almost every other comedian with a sketch show did it. Parodies and pastiches work best when they are executed by people who are obsessed with and even deeply pas­sion­ate about the subject matter. The most vicious satire can often come from a sneaking admir­a­tion, or at least appre­ci­ation, of what's being torn to bits. The danger with picking targets you don't really know anything about as they drift in and out of your peri­pheral vision — as Katy Brand seems to with every one of her amusing 'parodies' — is that you get things wrong, and you look like a prick. That's how you end up with something like this Lady Gaga pastiche, which accom­pan­ies a claim that Gaga is "just europop" with this image.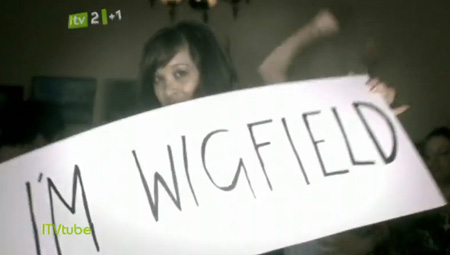 And you think, 'well, if you knew what you were talking about you'd know how to spell Whigfield's name'. We believe that is what Persons Of The Internet might term a 'fail'.
There are moments when Brand gets it right — Gaga is, of course, actually influ­enced by European pop, since Space Cowboy and RedOne are both from Europe and a lot of her influ­ences are British, but she's not europop. And there is truth in the assertion that Lady Gaga grabbed a lot of attention when, during Britain's biggest snowfall in years, she went out and about in London wearing clothes most women reserve for aerobics. But you cannot help but feel — perhaps this is unchar­it­able — that Brand is so lollingly moronic in her world view, that she knows her subject so little, and that she pursues easy gags so blindly, that she simply got those points right by accident. If you throw enough shit at the wall some of it's going to stick, and when it's Katy Brand there's a whole lot of shit.