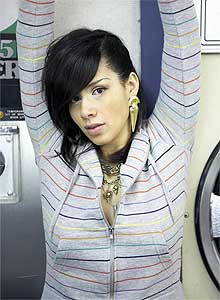 This is probably what The Real Heat would have needed to get them­selves out of east London and into the Top 40 but Kid Sister has beaten them to it with a song which may appeal if the band name 'Fannypack' means anything to you.
Likeable Radio One taste­m­aker Annie Mac was telling us about Kid Sister a while ago and we have been having sneaky listens ever since.
If pop music was Fawlty Towers with Kanye as Basil, Lily Allen as Sybil, Pink as Manuel, Kelis as Polly and MIA as Terry the Chef, Kid Sister would probably be The Major.
We have literally no idea what the above paragraph means but we do love the fact that Kid Sister (she is a protoge of some fella called Kanye West) has some of the least popular R&B girlbands of all time on her MySpace page. 702, Xscape and Total all feature.
Here is the video for 'Pro Nails'.
httpv://www.youtube.com/watch?v=SiCch28FHdQ

Also on a 'Kid Sister's MySpace page' tip, 'Control' is amazing and 'Let Me Bang' and 'Telephone' are very good as well. 'Pro Nails' is out in the UK at the end of Janurary.