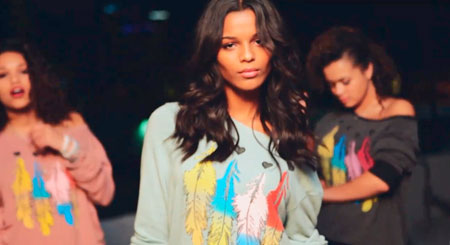 We premiered SoundGirl's debut single 'I'm The Fool' as yesterday's Song Of The Day, now here's the video.

And before you ask, yes you heard correctly — the lyric really is "this ain't Glee, I'm back on The Wire, if it was Twilight I'd be a vampire".

[youtube]pw6EqmBxu7Y[/youtube]THE THREE BEST BITS:
1.Loving You Is Sweater Than Ever
One of the lyrics is about a sweater. In this shot, the presence of a sweater in the video is emphas­ised. GENIUS*.
2.Literal Twizzle
The appear­ance of Twizzle for Generic Middle Eight Rap #432 comes with him doing Phonehand when he mentions a phonecall. ALSO GENIUS.
3.Textual Healing
In certain parts of the video some words are on the screen. It is a bit clunky but it looks nice in parts. And for that reason we are saying THIS ALSO IS GENIUS.
* Definition of 'genius' open to interpretation