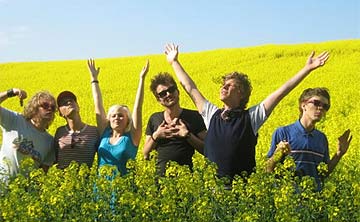 Do you like Alphabeat? Of course you do they're bloody amazing. Well, as we mentioned the other week, they have now moved to London and are currently waiting for EMI to work their magic (hem hem) and make them the biggest new band in Britain etc etc.
To kick things off they're doing some pop concerts which you should attend. But which date will you plump for? The choice is yours.
If you're not doing anything tomorrow night and fancy seeing a brilliant pop band in a venue which per­man­ently looks as if it's on the verge of col­lapsing, killing everyone inside, you can catch Alphabeat at…


The Borderline, London (TOMORROW)
Perhaps you would prefer to see Alphabeat in a nightclub which spe­cial­ises in hiring the most unpleas­ant and rude door staff in the whole of London Town. You're in luck! You can go and see them at…


Fabric, London (October 18)
Or are you living somewhere you keep telling yourself is better than London in spite of the fact that it clearly isn't and is really just Worthing with more gays? Why not go and see Alphabeat at…
Adventures In The Beetroot Field, Digital Brighton (October 19)
Then again, perhaps you are a fan of chucking a load of cocaine up your nose then attemting to claim it back on expenses from whichever music-media-related company has paid for you to go to Manchester for a few days in the hope that you might find some halfway decent band to write about or sign or manage or publish or do something with. If this is the case, why not go and see Alphabeat at…
Walkabout — In The City 2007, Manchester (October 21)
Really the choice is yours but you should see them at least once.