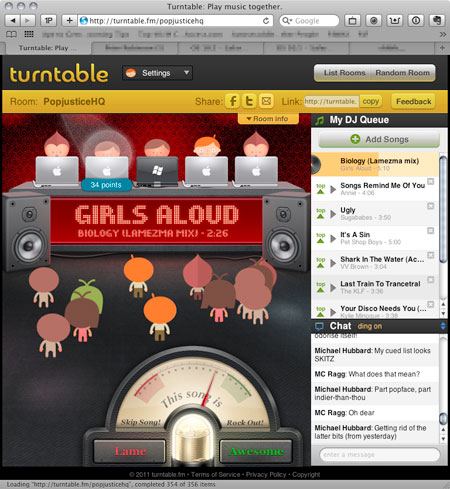 It's lunchtime on Friday and we have spent the last hour in the PopjusticeHQ room at Turntable.fm. We'll be there for the rest of the day, so do come and join us!
The idea of the site is pretty simple — you log into the room (at present it's still in beta so one of your Facebook friends needs to be a member before you can get in — annoying), the you either listen to what other people in the room are playintg, or you get into one of the five DJ booths and cue up a song. As you can see from the screen­grab above, earlier on we lined up a series of bangers so immense that the internet almost exploded. Fortunately everything was fine in the end.
The bril­liantly literal late-90s-style UI — it's some people DJing in a club! — is all a bit naff but it's sur­pris­ing just how much it works. Basically, it looks like a nightclub so when it's the next DJ's turn to play a song (you can't see what's coming up) you do feel that rush of excitment when it's something brilliant and that familiar sense of let's‑go-to-the-bar when it's something ropey. You can chat to fellow clubbers and room admins can even boot people off the decks if it gets too much, func­tion­al­ity that came in useful earlier when someone attempted to play Snow Patrol.
In summary it's like the Glasto dance tent without a 68-year-old man in pink knickers and fairy wings offering you lukewarm red wine from an old Volvic bottle and that's fine by us. Come and have a dance to whatever nonsense we're playing at http://turntable.fm/popjusticehq.