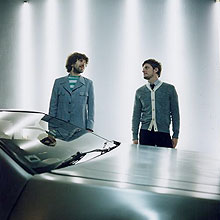 Neon Neon's new single 'I Told Her On Alderaan' is very brilliant. It was brilliant when we first got the album in, it's been brilliant over the inter­ven­ing months and it's still brilliant now they're releasing it as a single. A triple whammy of being brilliant for 'I Told Her On Alderaan', then.
In an attempt to make the song even more brilliant the band asked Richard X to have a word with it. After a few weeks Richard X had finished and, as a relief to all, he had indeed made the song sound even better. Kind of like a 'chart hit'. That sort of thing. Neon Neon have not had a proper chart hit yet even though they deserve one.
Anyway in an amazing twist of fate/lunacy the band won't be including the RX mix in any of the com­mer­cial packages (literally WTF) so we're offering you a free and totally amazing download of the remix.
Here is a video we have made.
httpv://www.youtube.com/watch?v=Am00B2nwdtE

And here is the download link.
Amazing. The single's out (without the Richard X mix) in a few weeks…