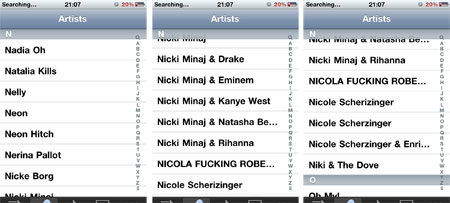 That the 'N' section of the music on our iPhone is com­pletely awesome.
WHAT ELSE CAN WE LEARN FROM THIS?
1. If she really want to get ahead in this game we call pop, Nicki Minaj could do with duetting with a few more people. Just to get her name around a bit. Come on, Nicki Minaj's people, show a bit of 'get up and go' and give this exciting new artist a helping hand.

2. Nicola Roberts should be listed in ALL iTunes libraries as NICOLA FUCKING ROBERTS.

3. Regarding Niki & The Dove: MEMO TO MERCURY RECORDS. GET ON WITH IT.

4. The Nerina Pallot album, which we have listened to rather a lot, is out today. You can and should purchase it here.