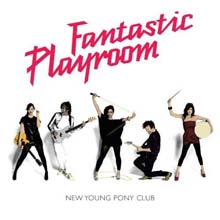 New Young Pony Club have an album out this week and it is threat­en­ing to make the Top 40 – which is obviously very good news.
Here are ten reasons for you to consider buying a copy of the New Young Pony Club album at some point in the not too distant future.

1. It has 'Ice Cream' on it. The Top 40 'hit' single, not the dessert.

2. It also has 'The Bomb' on it. This was also a single but it did not make the Top 40 and is therefore not a hit. This is a shame because in our opinion it is better than 'Ice Cream' but then what do we know about anything.

3. We could point out that 'The Get Go', 'Hiding On The Staircase' and 'Jerk Me' are also very good and now we have.

4. It is generally listen­able to from start to finish without inspiring any thoughts that it might be nice to skip back to 'The Bomb'.

5. They are very good live. This does not make any impact on the album per se but it is worth mentioning.

6. There is a nice picture of the band on the front cover. The photo includes a woman (Sarah Jones) threat­en­ing to bang a drum. Whether she did even­tu­ally bang the drum or not we will never know and it is this air of mystery which makes New Young Pony Club such an exciting musical prospect.

7. Fans of inlay sleeves which are also small folded-to-fuck posters will like the album.

8. The CD has nice rounded corners. Rounded corners split the nation when they first came out — remember the riots? — but per­son­ally we'd never go back to those sharp corners now.

9. Kate Nash recom­men­ded it when we inter­viewed her recently although she wasn't able to say anything par­tic­u­larly inter­est­ing about it so we cut that bit out and deleted the recording. Sorry.

10. Everyone likes a pony.
If you cannot be arsed with all that, you might prefer to win a copy for free. If so, look at the picture below.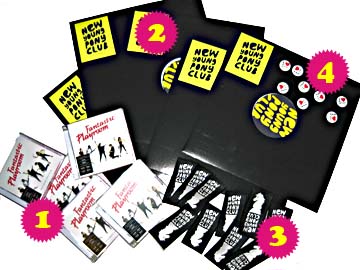 1. These are vinyl copies of NYPC's 'Ice Cream' single, which, if you've been to an indie disco recently was probably the only good song you heard.

2. These are copies of the New Young Pony Club album which, if you remember reading any of the writing above, you will know is very good.

3. These are New Young Pony Club badges. Badges are small circles of metal with a lethal spike on the reverse. These may be attached to your person at will.

4. These are New Young Pony Club patches. Similar to badges but require a needle and thread for attachment.
If you would be inter­ested in winning some of this, please email at [email protected] and tell us the funniest thing that has ever happened to you involving a horse.