We've recently taken up an evening job in a newsagent and while stacking the shelves last night we came across THIS.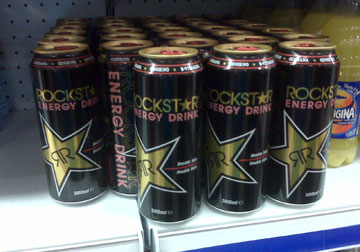 Until Nickelback's 'Rockstar' single came out any drink trading on the tedious 'n' terrible supposed 'amaz­ing­ness' of what it would be like to drink 'like a rockstar' would have been bad enough — the drink's been around for about seven years — but now, in the harsh light of this post-Nickelback pop wasteland, one can only feel that enduring this 'energy drink' would be like drinking 500ml of Chad Kroeger's sperm — and we're not doing that again.
We wonder if sales of Rockstar energy drink have gone up or down since Nickelback's reign of terror began all those months ago?