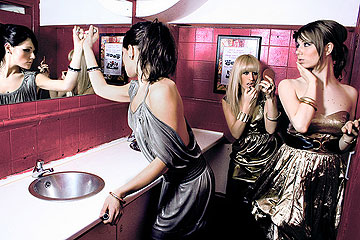 We can tell you right now that by the end of the year you're going to be so sick of exciting new girl­groups that you'll be literally banging on James Blunt's front door begging him to release a new album but, for the time being, it's something of a novelty to have one, like Red Blooded Women, come along which a) isn't crap and b) bucks the trend of the inde­pend­ent girlband world by not making unlisten­ably bad 'music' based on outmoded pop ideo­lo­gies last relevant six years ago.
Today's Song Of The Day on Popjustice is 'You Made Your Bed'…
[audio:redbloodedwomen.mp3]
…which is one of the band's songs and an example of their will­ing­ness to tackle real social issues through the medium of popular song — in this instance the problems we all face as indi­vidu­als and as a global being with flat packed Ikea furniture. It's quite jolly.
We went to see the band perform in London about a year ago because (FULL DISCLOSURE ALERT) they're managed by one of the guys who DJs at Club Popjustice. They did some songs which were a bit 'trip hop'. Fortunately they have now seen the error of their ways* and have gone mental for robotic future pop electro type stuff.
You can hear some more of their songs at their MySpace and while it's all obviously fairly early days they're worth keeping your eye on…
* For future reference any potential popstars reading this should note that trip hop = terrible