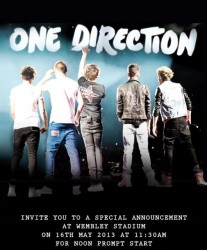 Trailed by an incessant hasht­ag­ging campaign and an ominous countdown on their website, One Direction's 'big announce­ment' wasn't simply that Niall has had his braces removed, but that they are in fact going on a massive stadium world tour, starting next April in Latin America and then coming to the UK. Exciting times.
Rather than just send out an email with a nice picture and the dates, journ­al­ists were sent an invite last week asking them to traipse all the way to Wembley for a press conference.
Expecting something quite glamorous — I mean, look at that sparkly invite — involving a nice buffet, I agreed to go.
Anyway, here's what I learned:
One Direction fans are quite dramatic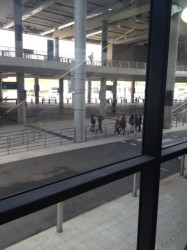 Having got a bit lost by walking the wrong way round the stadium, I even­tu­ally found the correct entrance and made my way towards the reception. Outside the big glass doors a glum-looking bloke was stood waiting for a group of girls — each with 1D scrawled on their faces — and their mum who had assembled men­acingly around the check-in table bit. I couldn't make out what was happening but as I got closer they were 'asked to leave' prompting one of the girls to yell: "you're crushing our dreams! Stop crushing our dreams". As we climbed the escalator I took this picture just before their mum told them off.
Press conferences aren't that glamorous to be honest
I've never really been to a pop press con­fer­ence before, so my expect­a­tions were quite high. Surely they'd hold it on the hallowed turf of Wembley I thought? A scene of so many amazing moments, chiefly Take That's Progress tour. Surely I'd end up playing a game of football with Niall, and perhaps get the chance to discuss some lyric ideas for the new album with the band's foremost pensmith? Being greeted by this fairly rudi­mental sign upon arrival dispelled any hopes I had of it being anything other than on a par with a NatWest con­fer­ence I went to when I worked there after Uni. This was our journey to the con­fer­ence room. Amazing.

Niall is clearly being positioned much more clearly as someone who does something in the band
After taking pictures of some members of the band looking at the Wembley pitch and enjoying some orange juice, we were pk-callout down a slightly grimy corridor to the con­fer­ence room. It was here that we saw the title of the tour, which sort of meant the whole 'secret' announce­ment thing was 'out there' before the 'boys' had even stepped out to start talking. When they finally did, the 'compere' imme­di­ately told us that it would be Niall — a man who had seemingly not been near a micro­phone on their first album — who would make the announce­ment. Which he did. So well in fact that Louis was prompted to ask him where he'd learned all these new words. He was also posi­tioned at the centre of the group, which is sort of inter­est­ing. As you can see from the pic above, it went Liam, Zayn, Niall, Harry and Louis, meaning the triangle of interest in the centre is still in tact. Which brings us to…
Liam is definitely the new Gary Barlow
Whenever a question needed a mature (boring) response or something that towed a specific PR line, everyone looked at Liam (it was Liam who used the words "edgier" and "rockier" when the new album was mentioned). Every 'joke' he tried to make fell a bit flat and there was an amazing moment when he was asked about going to Argentina or somewhere amazing and he replied with a lot of guff and then, "I hope the weather's warm" before unleash­ing an amusing Alan Partridge-esque laugh, which was followed by the mocking laughs of the rest of the band. Obviously having to answer boring questions with exciting answers can be difficult, but it was notice­able how being funny and just sort of relaxed in that envir­on­ment was made to seem like quite a chore. Much like when Gary does that annoying arm thing when he's trying to 'rouse' the X Factor crowd.
Zayn is basically mute
Zayn may sing like a lark and dance like a moody teenager, but he is seemingly mute. Not a single word passed his lips during the thirty or so minutes they were sat in front of us. Yes his hair looked beautiful and his coat was nice, but it would have been good to hear his views on what he wants to do when they're in Brazil or what soap character they most feel an affinity to (thanks The Sun).
And then everyone left. See.