On reading the phrases 'Intimate Session', Durex and AlunaGeorge together in one sentence you know you're in for quite the night. I mean, it's not everyday you get the oppor­tun­ity to join 249 other strangers in getting intimate with two 'crit­ic­ally acclaimed' popstars is it?
So with some degree of excite­ment I made my way to The 100 Club on Wednesday night, and here are some things I noted.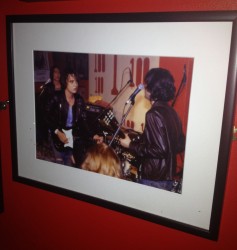 THE 100 CLUB WAS ACTUALLY QUITE SPACIOUS FOR AN 'INTIMATE SESSION'
Given the premise of intimacy and pro­phy­lactics I was initially a bit dis­ap­poin­ted to find myself in a spacious and latex-free zone. I did, encounter a penis in the toilet, but it was of the graffiti variety and nothing to do with the 'Intimate Session' at hand.
The club itself was keen to trumpet its authen­ti­city, with snaps of credible artistes such as Pete Doherty lining the walls. There was also some sort of photo booth thing on offer, where you could go and snap yourself with some glow­sticks or something, but this required a bit of hanging around so I went to the bar instead.
DANIELA BROOKER WAS THE SUPPORT ACT
After a quick Google search I found out that Daniela once toured with The Saturdays. Daniela opted for a leather ensemble and the Brooker live exper­i­ence was pleasant, if a little long.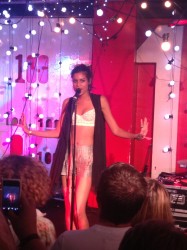 ALUNA DECIDED TO WEAR NO CLOTHES
Aluna really went with the theme of the event and turned up without a shirt, later ditching the cardigan and dancing around in her bra. As you do.
Unfortunately George was a little more on the con­ser­vat­ive side in shirt and jeans, but what can you do. Thankfully the crowd remained clothed for the duration.

THE SETLIST WAS GOOD EVEN IF THEY DIDN'T PLAY A FEW OF MY FAVOURITES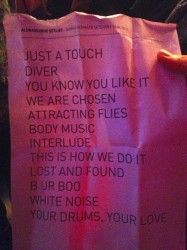 You can see the songs and order in which they played them in the image to the right of these words.
As you may be able to spot they didn't do 'Kaleidoscope Love' or 'Superstar', which was a shame, but I suppose you can't have everything.
And what they did do was great. Slick, cool and laid-back, both Aluna and George were on top form.
THERE WAS EVEN A SURPRISE DANCE ROUTINE
Well, I say dance routine, it was more of an impromptu moment of co-ordinated movement from the pair. Modern tech­no­logy permitted me to catch the moment with an Instavid (is that what we call it?) and I've placed it below these words. I even put on a soft filter to create an 'intimate' feel. You're welcome.
'ATTRACTING FLIES' REMAINS A MASSIVE TUNE AND SOUNDED VERY LISTENABLE LIVE
The third single was a highlight of the night and the song trans­lates really well in a live setting. Putting the track early on in the set broke the crowd in rather well, meaning knees and necks were oiled up and ready to bob and nod along. As you can hear from the Vine below, Aluna's voice sounded CD-similar, which is never a bad thing. You'll also notice I was alarm­ingly close to a giant support beam all night and in a 'gig' setting it proved to be quite incon­veni­ent when you wanted to take any photos/grab a quick video/thrown down some moves but I battled on regard­less, all in the name of Journalism.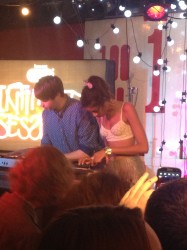 WE WERE TREATED TO AN 'INTERLUDE'

About halfway through the set we encountered an 'Interlude' bit, during which Aluna had a bit of a rest at the back and George twiddled a few knobs. I suppose it gave him a moment to bask in the spotlight, although perhaps they simply cannot afford another band member; we are facing Tough Economic Times after all. To be honest it just looked like Aluna was just searching around for something. Maybe she was looking for a jumper.
'LOST & FOUND' WAS PARTICULARLY GREAT AND SHOULD MOST DEFINITELY BE A SINGLE
As well as the song being amazing on its own merits, 'Lost & Found' sounded bloody good live and the crowd reacted quite pos­it­ively to it, ie they danced around like loons. Unfortunately I didn't get any videos of this par­tic­u­lar moment so you'll just have to take my word for it.
After (finally) hearing the brilliant 'Your Drums, Your Love' the night drew to a close. AlunaGeorge were exactly how you'd expect AlunaGeorge to be live: polished per­form­ance, songs sounding great, both band members 'on point'. And while we didn't get intimate phys­ic­ally, the music seemed to touch everyone in just the right way, which I guess was the point of the whole thing.