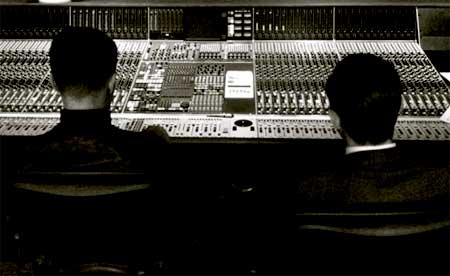 1. Hurts.
The more we hear of the band's debut album, the more we feel that something very special is happening. The duo's strong visual identity has led to mur­mur­ings in some quarters that the band rep­res­ents 'style over substance', a pathet­ic­ally narrow minded assump­tion that says very little about the band's output and rather a lot about a critic's inability to grasp how style and substance need not be mutually exclusive and often — as in the best pop — come hand in hand, per­petu­ally informing each other in a cycle of self-sus­tain­ing pop amazingness.
2. The Sound Of Arrows
We are immensely excited about the Sound Of Arrows album; in the meantime their remix of Lady Gaga's 'Alejandro' is listen­able enough.
3. Kylie
Amazing.

4. Royal Palms
We are still very much enjoying the musical output of mys­ter­i­ous (don't get too excited, it's all a bit 'Monarchy') duo Royal Palms. In case you missed it when we featured it the other day 'Echoes' on their MySpace is a v lovely listening experience.
5. Lady Gaga
At the end of the day, when the dust has settled, when all is said and done, when push comes to shove, you could do worse than a bit of Lady Gaga.
666. Scouting For Girls
It feels somehow too obvious, or a little too much like scouting for fish in a barrel, but JESUS CHRIST we still cannot believe how bad this band's new single is. Adding a 'social message' it like taking the badness of the first album and mul­tiply­ing it by a million. Awful. AWFUL.