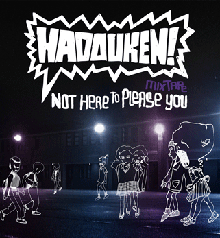 You would not believe how many hours are spent at record labels tweaking, fiddling with and dicking around in the vicinity of pop singles in the desperate hope that a slightly quieter drum noise two thirds of the way into a single might make it somehow 'radio friendly' enough for Radio One to give it a chance.
Which is why it's quite funny that Hadouken's most noisy and unlisten­able track to date has… Been playl­is­ted by Radio One.
It's 'Leap Of Faith' from the band's first sort-of-album (except-not-an-album), 'Not Here To Please You', which is a sort of mixtape of stuff they've done or remixed.
Here is what else we can tell you about the 'mixtape'.

1. It is being released on USB.

2. The Hadouken! remixes (Plan B, Bloc Party) generally involve James from the band shouting all over the originals. Which is fine by us.

3. Even though it is a complete din and not danceable in the slightest 'Leap Of Faith' is totally amazing and will probably be their biggest hit to date now that Zane Lowe is 'on board'. Next stop, Edith Bowman, then the world.
4. It will retail at less than FIVE ENGLISH POUNDS.
A bargain.