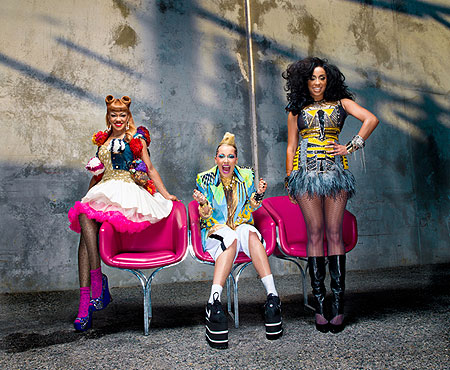 When we first wrote about Stooshe last March when 'Fuck Me' appeared online we mentioned how good it would be to see a major label work with the band without squashing all the good bits out of them.

We're not sure how things currently stand but 'Fuck Me' is now 'Love Me' (there will be a separate 'Fuck Me' release with its own
too) and is the band's first big single release for Warner Bros.

Apart from the dis­ap­pear­ance of bad language the main dif­fer­ence in the new version is that this time they've thrown £25K (or whatever the going rate is) at a Travie McCoy guest spot, and have easily spent just as much on a glossy video.

[youtube]Rcxnwv7yaQk[/youtube]

The gurning and the 'irrev­er­ent' chatting — which is beginning to grate slightly — remains, and we're keen to know where the band goes after the we-swear-LOL schtick has been worn down, but the essence of the song still kind of remains and we're cau­tiously looking forward to the album.

The single's out on March 5.