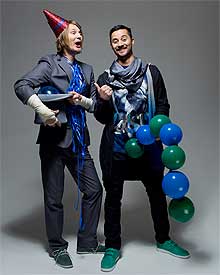 Royksopp are back in 2009 with a new album. On the basis of previous albums we predict it will be incredible.
In the meantime, today is their birthday and to celebrate they've had their picture taken with some balloons AND recorded a song, called 'Happy Birthday'.
It's an amazing track which is getting us very excited about the new stuff: could they finally have made their big pop album?
Anyway here's a bit of 'Happy Birthday'…
[audio:happybirthdayroyk.mp3]
…and you can download the entire track — basically a really beautiful piece of elec­tronic pop music with some annoying 'happy birthday' business over the top — in full from their website: www.royksopp.com.
Hurrah.