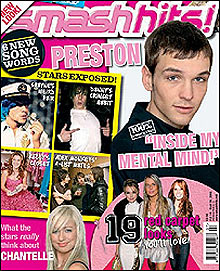 It's two years since the last issue of Smash Hits 'hit the stands'.
It doesn't seem like two years.
We wonder how long it took readers to stop missing Smash Hits, and to get on with their lives every fortnight.
It probably took a fortnight.
It's hard to look at the Top 40 today and see anything that would have
been fun­da­ment­ally different if Smash Hits was still going. Or if Top
Of The Pops was still going, for that matter. Maybe if you throw CD:UK
and a few others into the mix things might be slightly different. If all those tra­di­tional vessels for pop acts still existed, each of the
labels might have con­sidered the support network strong enough to justify the bother
of putting some new acts together, but even when all those
magazines and TV shows were still going new acts would bomb. The dif­fer­ence today might be as minor as one extra strug­gling boyband on the verge of being dropped.
It would have been inter­est­ing to see how Smash Hits would have reported on the returns of Take That and the Spice
Girls — two acts who boosted the magazine's cir­cu­la­tion but who also, by backing 'pop' into a very tight corner, con­trib­uted to its demise. Would those acts have received a hero's welcome? Or would they have been seen as 'too old', because pop had moved on? And if there was some flicker of recog­ni­tion that pop music con­stantly evolves and develops, would Smash Hits would have got behind Roisin Murphy, Alphabeat, or
Dragonette? They'd probably have liked the weird and wonderful world of Mika, but in 2008 would Smash Hits be excited about the new Annie album?
Would they have put Calvin Harris on the cover, or would he have simply
been an occa­sional poster pullout while covers continued to focus on an endless cycle
of Girls Aloud style tips, McFly's most revealing ever interview and wildcards like a post-Strictly Alesha Dixon?
There was a piece in one of the papers last week about how busy junctions and sections of road actually become safer when the council takes away all the stop signs, traffic lights, barriers and road markings. Because they don't see a green light, motorists don't speed through a cross­roads without thinking; ped­es­tri­ans don't see a green man and step off the kerb without looking both ways. Essentially, people start taking respons­ib­il­ity for their actions and, where one might expect there to be chaos, a strange sense of order takes hold. Maybe with Smash Hits, Top Of The Pops, CD:UK and all the rest out of the way, and with blogs and forums and sites like MySpace increas­ing in pop­ular­ity, that's what's happened with pop in the last few years.
It'd be inter­est­ing to know what would happen if there were no signposts or green men or warning signs, not just in pop but in all music. If Radios One, Two and Three each became talk radio, if all the magazines, TV shows and websites shut down. No beer companies spon­sor­ing searches for new talent, no mobile phone operators funding the TV music shows, no taste­m­akers, nobody attempt­ing to 'champion new music'. Nobody in The Media to decide that U2 are more or less important than Katie Melua, or that grime is better or worse than jazz. What if everything dis­ap­peared one day and music fans just somehow absorbed their tastes out of nowhere? Like how people figure out whether or not they like fish fingers, or whether they prefer blondes or brunettes, or whether or not they like being pissed on.
We think it would be quite good.
Then it would be really bad.
But it would be quite interesting.