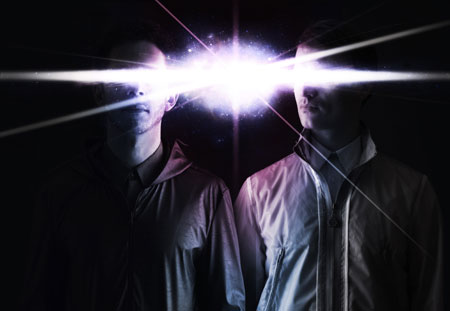 Still no news on those great short films from last week but the time's probably right now to mention Monarchy, the 'mys­ter­i­ous' act we first featured in October who'll be revealing at their January 20 London show that they are, in fact, the band formerly known as Milke.
Some Popjustice readers will already be familiar with Milke as we've featured two of their tracks as Songs Of The Day, but we asked Monarchy why they were pre­tend­ing not to be Milke and they told us this.
"Monarchy has allowed us to be a lot more adven­tur­ous and free than previous projects, and to refine our song writing and concept to make something much more powerful and direct. We don't have to worry about what has been before, dead skin. It has given us a platform where we can write without lim­it­a­tion, but also slightly abstrac­ted. We are writing music we truly love. If it's poppy, that's because we love some pop music. If it's modern, con­cep­tual, spacey and disco, it's because we love that."
There's def­in­itely a sense that Milke was a bit like a 'demo' version of Monarchy, but reading between the lines here what Milke also knew, which most unsigned (or self-signed) acts simply can't com­pre­hend until it is far too late, was that they couldn't get arrested and nobody was inter­ested in hearing any more of their music. It's a harsh, uncom­fort­able truth and one which, for many bands, has nothing to do with the quality of the songs they're releasing. Milke knew that for a number of reasons buzz acts get a tiny window and that anything released after that window shuts is a waste of time. An act whose buzz has died down is treated by most as soiled goods. It's unfair but it happens all the time: right now the duo are putting together some incred­ible songs as Monarchy but the state of British taste­m­ak­ing is such that if they'd released them as Milke the songs would have been roundly ignored.
Fortunately after a little bit of smoke and mirrors songs like 'The Phoenix Alive'…
[audio:phoenixalive.mp3]
…are getting a little bit of the attention they deserve.
More songs on their MySpace at www.myspace.com/monarchysound.