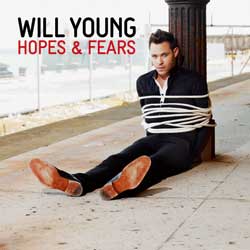 1. 'Hopes & Fears' sounds a bit like two different Eurythmics songs plus bits of
Laughing Girl Lennox solo tune 'Little Bird', except with a man singing.
2. It's upbeat in the BPM stakes but lyrically it is a 'mature rela­tion­ship' song and is not, for example, an excitable jumping-up-and-down ditty of teenage romance. It's a very sober sort of pop tune. It begins with Will saying "look at what you do to me, I don't know who I'm becoming, baby looks
like you're no good, you don't take care of me like you should", while the chorus notes that "hopes and (hopes and) fears bring us all to tears, baby this'll tear us apart, I don't even know what you want".
3. It is three minutes and forty seven seconds in length. That's seventeen seconds longer than the optimum length of a decent pop tune but the last seventeen seconds is just adlibs so you could probably fade it early if you wanted. Which would be a shame, because then there would be a fade instead of…
4. …the song's abrupt end.
5. It works as well a single aimed at flogging copies of Will's Greatest Hits but it doesn't really sound like anything else on the Greatest Hits, so it's one of those looking-back-while-looking-forward jobs.
6. There are some amazing bursts of MANSINGING late on in the song in which Will's voice goes all deep and com­mand­ing and blokey.
7. It is not jazz and it is not overly serious and/or muso. Nor is it stupid. It's all very 'on brand' for Will Young ie "here I am singing a song about serious rela­tion­ship issues, oh hang on I appear to be riding a horse/going for a swim/pretending to be John Noakes in a video" etc. Very charming and warm and approach­able and all the usual Will Young things.
8. There's a "let go let go let go" middle eight where loads of the song drops out and then it all comes back in again.

9. If it hasn't already, it's destined to cause a small explosion at a Radio Two playlist meeting.

10. And that's your lot.