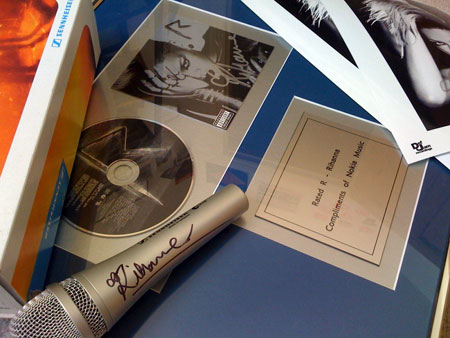 We were supposed to run this ages ago but we wanted to make sure we were def­in­itely the last website on the entire internet to offer up some virtually identical Rihanna booty and we think, hopefully, we've achieved our aims.
Basically as you probably will have seen Nokia have been very deeply and self­lessly involved in promoting Rihanna's most recent album and they came to us and said "we're doing a thing with a few different online places where you give away some Rihanna stuff", then explained that the Rihanna stuff would include a signed present­a­tion disc, a couple of signed photos and a signed micro­phone. There was some stuff about men­tion­ing Nokia's Rihanna app, their Rihanna widget and so on, and that all sounded very reas­on­able par­tic­u­larly because we were thinking 'we are not going to give this away in a com­pet­i­tion, we're going to keep it and put it on the wall etc'. This dis­grace­ful train of thought only gathered speed when Nokia said that we could "dis­trib­ute [the prizes] among your readers as you desire". We'll be honest, viewers, we were 'desiring' to 'not dis­trib­ute them at all'.
This all seemed a little unfair so we're going to do a proper competition.
We're putting a piece of paper in an envelope. On that piece of paper are ten circles. There's a number — between 1 and 10,000 — in each circle. One of the numbers is 23 (see below).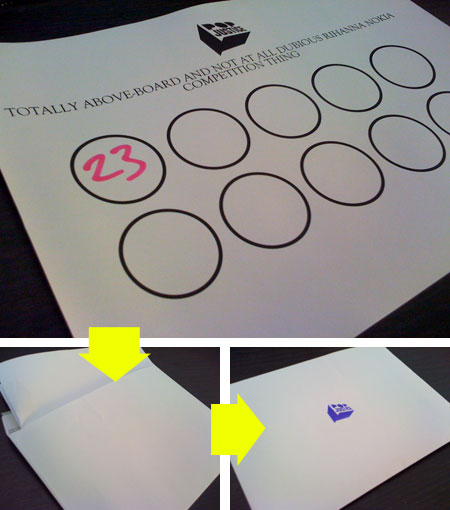 If you guess the numbers we put in the other nine circles you win the lot. You need to get them in the right order. Closing date: today, 1.14pm. Email your entries to THIS COMPETITION IS NOW CLOSED and if nobody gets it right we're keeping everything. And you can't, we think you'll agree, say fairer than that.