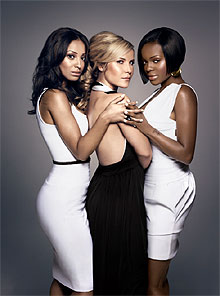 Sugababes are doing a concert soon, except it isn't an actual concert because it is a 'showcase' and you can't buy tickets to go and see it. You have to be invited, or perhaps win some tickets in a competition.
A com­pet­i­tion like this one.
We have two pairs of tickets to the Sugababes showcase at the O2 Indigo Arena. If you have already visited 'The 02' you will be aware that it is an amazing venue which manages to be massive and, at the same time, a perfectly practical and enjoyable estab­lish­ment for seeing pop concerts.
The thing we are giving tickets away to is happening on September 14 and if you would like to win a pair of tickets, email us at [email protected] and tell us which Sugababe would provide the best enter­tain­ment at a four-year-old's birthday party.
The com­pet­i­tion closes at 6pm on Friday. Emails cos zero pence, at least zero pence of which goes to charity.