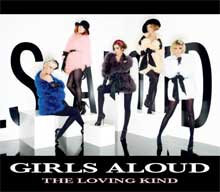 The next Girls Aloud single 'The Loving Kind' is all over the radio at the moment but it's not out until next month.
When it does come out it will be accom­pan­ied by a variety of b‑sides and mixes and oppor­tun­it­ies for fans to purchase multiple copies. One such oppor­tun­ity will take the form of the Utah Saints remix.
Lamezmathons aside Girls Aloud have never been that lucky with remixes but the Utah Saints version is a little bit special, turning the rather pleasant and autumnal tune into a loud and deranged Exorcist-down-the-disco masterpiece.
Scary bit:
[audio:lovingkindutahsremix2.mp3]

Amazing bit:
[audio:lovingkindutahsremix1.mp3]
We think this version of the track will be available as a download, along with the usual CD singles, limited 7"s available through the official website and so on.