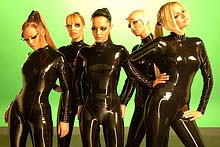 There's been a right old hoo-ha (ie 42 people on the internet are excited) about Girls Aloud's 'Hoxton Heroes'.
It's the b‑side to 'Can't Speak French' and it's a song about how indie musicians have rubbish songs which don't sell.
The song might make more sense if melodic guitar music hadn't decimated the pop landscape and if Girls Aloud hadn't been quite happily
embraced by most portions of the Hoxton set — basically, it would need to be sung by Westlife six years ago to make real sense — but it is an 'enjoyable romp' nonetheless.
Here's a quick blast…
[audio:hoxtonhero.mp3]
…and you can hear a longer clip in all its "don't kid yourself you're an indie clone, we've seen it before get a sound of your own" glory at www.myspace.com/girlsaloud.