Considering the number of umbrellas in the 'Umbrella' and the quantity of cars in the 'Shut Up And Drive' video (see 100% non-clickable behind-the-scenes picture below), all bodes well for when Rihanna gets around to the 'Breaking Dishes' video.
'Push Up On Me' could be inter­est­ing too.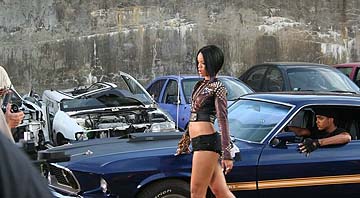 While Rihanna is in the editing suite over­see­ing every minute detail of the final cut for the new video, she will no doubt be referring to the following template to keep it all on track.
httpv://www.youtube.com/watch?v=OhAIrvDEYMQ

There is some pretty sexy cho­reo­graphy around the 2.55 mark. FYI.