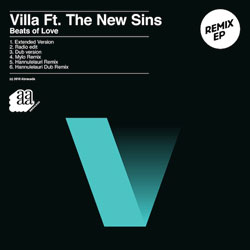 There is nothing very Christmassy or even New Yearesque about this post but it concerns a great elec­tronic pop tune from a couple of months ago. It has something in common with Mini Viva's 'One Touch' in that we totally forgot to put it in our end-of-year singles roundup but we did want to make sure it was mentioned before the year was finished.

Basically it's a tune called 'Beats Of Love' by Villa feat The New Sins and we fell minorly but still sig­ni­fic­antly in love with the song the first time we heard it.

Perhaps you will too.

[youtube]Y6qVCZYcZBQ[/youtube] After wafting around clubbish blogular type circles since the start of the summer the tune came out on Abracada four weeks ago (it's on iTunes here) and those of you who've been paying attention will recognise that the release is the collision of two almost super­nat­ur­ally fantastic slices of pop pre­vi­ously featured on Popjustice.

The first was The New Sins' amazing 'Feelings Have Changed'…

[youtube]GjxOqc5hhqA[/youtube] …and second was Villa's heartstop­pingly gorgeous re-edit of Agnetha Faltskog's 'Wrap Your Arms Around Me', a track which pulls off the handy trick of sounding both highly festive (so there is something slightly Christmassy about this post after all) and totally summery.
[youtube]HGZeLGCgxh0[/youtube] Very nice.