Did you enjoy yesterday's Song Of The Day, the splendid mix of Lykke Li's 'Everybody But Me'? If you like Annie and Robyn and that sort of thing you probably loved it, but in case you weren't listening here it is again.
[audio:lykke.mp3]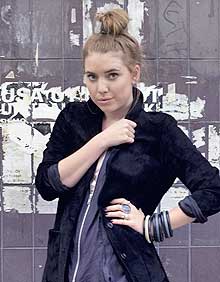 Very nice.
Well, thanks to the lovely people who are in charge of these things (ie Lykke's lot and Rocca, who did the mix), Popjustice viewers can download the song as a proper MP3. It is probably the best two and three quarter minutes of pop you will hear in the next 29 hours.
If you haven't heard much about/by Lykke yet, here is a crash course in her.
A CRASH COURSE IN LYKKE LI
» She makes brilliant avant garde (but not spookily avant garde) pop music.
» She is from Sweden.
» She is 21 years old.
» Bjorn from Peter Bjorn & Dave is producing her, she is like his protege or something.
» There's a single called 'Little Bit' coming out at the end of February.
» Bloody hell we've just realised there's a very flat­ter­ing and nice reference to Popjustice in her biog, or perhaps they just added that bit when they sent it to us.
» She's playing in London next week — yes, we know, it's all 'London this', 'London that', but the gig's seven days away so we've given you enough notice to book a train ticket from the coun­tryside into town.
» So there you go.
Here's Lykke's video for 'Little Bit' — if you don't like it we want your reasons IN WRITING by the end of the day.
httpv://www.youtube.com/watch?v=mUC0ezAlHwE

You can find out some more stuff about her at www.myspace.com/lykkeli, if you are interested.