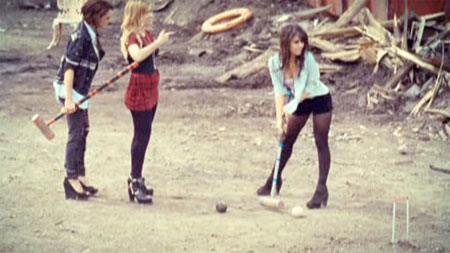 Well readers it's four months since Girls Can't Catch first unveiled their now classic 'Keep Your Head Up' video, with its croquet-on-a-rubbish-dump theme. At the time it seemed ridicu­lous — now, of course, the band are seen as vis­ion­ar­ies.
We have three points to make here, all on the topic of Girls Can't Catch.
1. 'Keep Your Head Up' was on Coronation Street the other day.
Have you noticed that Weatherfield seems to somehow be a magnet for amazing pop music? Whether it's the Rovers jukebox or the Underworld factory radio, they're always banging out brilliant tunes. What's their local radio station called, and can we listen online?
2. Excuse our language here but when the bastard is 'Echo' coming out, it's still v good.

httpv://www.youtube.com/watch?v=MaJ0suQUkrA

Marketing ideas for this single:
1. Team up with various local news­pa­pers (Liverpool Echo, Dorset Echo, Basildon Echo etc) to basically carpet-bomb the entire country with some sort of tie-in thing on week of release.
2. Release a CD single which features the same version of 'Echo' ten times, with each track slightly quieter than the first.
3. Get Mr Eko from Lost to be in the video.
4. Do a special version about ex-EastEnders actor Michael Greco.
5. That's all we've got.
3. It's nice to see Jess from the band is keeping busy.
Here's a photo she tweeted at us last Saturday night.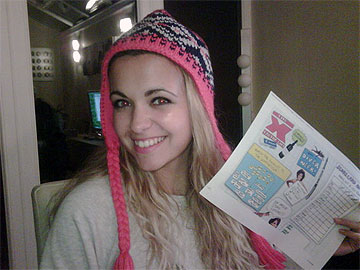 Nice hat. (?)