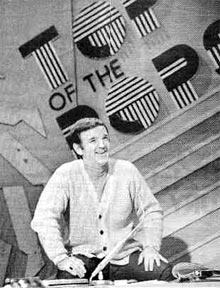 This man (right) is dead.
His name is Alan 'Fluff' Freeman and he spent about half a century playing pop music on the radio.
He didn't exactly invent pop music but he would have been good at taking it to Dragon's Den and he did invent the phrase 'pop pickers'.
He also presented the Radio One chart countdown when it was still a countdown of the chart (instead of a load of chat and phone-ins), and was a radio DJ in the proper sense of the term, rather than T4 presenter with a good agent.
Basically he was a bit like John Peel except, it seems from this morning's media coverage, without all the fuss.
Here are some bits:
Fluff intro­du­cing The Beatles on Top Of The Pops in 1967
Almost every audio clip you could ever want