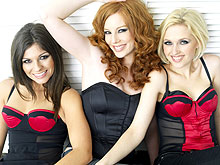 As you know, one of the two decent entries in the BBC's Eurovision:
Your Decision (we love the way the new name for 'Making Your Mind Up'
is basically saying 'Eurovision: It's Your Fault) is 'It's You' by The Revelations. It's basically Emme Bunton's entire 60s girlgroup routine without the stu­pefy­ing lack of conviction.
We asked The Revelations to supply us with five reasons they deserve Popjustice readers' vote on Saturday.
Here's what they sent us…
FIVE REASONS TO VOTE FOR US AND NOT SOMEBODY ELSE ON SATURDAY, BY THE REVELATIONS
1. "We think we have the best song."
2. "We're a real act with our own label and club night."
3. "We're not reality show chancers!"
4. "We want to try to bring quality and cred­ib­il­ity to the competition."
5. "We want to win Eurovision for the UK for the first time in over ten years."
There you go.
(PS: We don't think much of the one in the middle's 'I'm a little teapot' routine.)