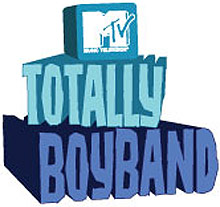 Tomorrow we are going to a press con­fer­ence. You know how much we like press conferences.
The Busted one was probably our all-time favourite, although the one to launch Pop Idol was quite good too because Simon Cowell told us that Five were splitting up the next day, except for some reason we decided not to do anything with this exciting piece of inform­a­tion and just thought, 'Oh, that's quite sad'.
Perhaps one of Five will be at the Totally Boyband press con­fer­ence, which is the one we are attending tomorrow. It is at 10.30am so we are expecting ORANGE JUICE and CROISSANTS and, perhaps, a little bit of booze.
Totally Boyband is a bit like Totally Scott-Lee (hence the logo, etc etc) and it is about a boyband. Or, rather, five members of other boybands who are joining forces to be a sort of uber-boyband with no doubt hilarious con­sequences. "Between them," the inform­at­ive press release tells us, "they've had 11 number ones, 40 top ten singles and sold nearly 100 million albums."
It's probably Ringo Starr and four members of Northern Line. :(