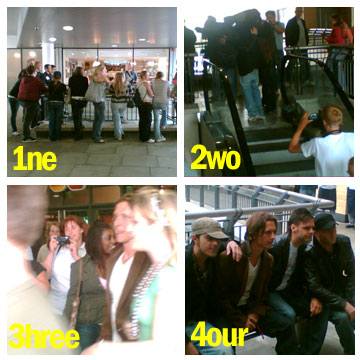 What's happening in these pictures?
1.
What on earth are all these people waiting for at this seemingly-normal escalator in a London town shopping centre? They're waiting for 5ive.
2. This is 5ive from behind.
3. OMG It's Richie Neville. Note artistic blur in our pro­fes­sional pho­to­graph, to represent the literal chaos of the moment.
4. 5ive resting their old legs.
As you can see we have been to the unsecret 5ive press con­fer­ence. Everyone was saying it was going to be something to do with announ­cing a 5ive reunion; it was in fact, to announce a 5ive reunion.
Here is how the morning panned outâ?¦
10.55am Joined the end of a very long queue.
11.15am Went indoors to see the old 5ive logo on the wall and no food or drink. But there was a golden sofa under the logo.
11.20am Got sent back outside with the promise that 5ive were going to arrive UP THE SHOPPING CENTRE ESCALATOR.
11.30am 5ive pulled up outside Sainsbury's.
11.32am 5ive were coming up the escalator! People screamed! Others carried on shopping! Jay and Abs were wearing hats. The others weren't. We took a photo and went back inside. There was still nothing to eat or drink.
11.40am All the fans came running through the doors screaming.
11.45am 5ive came in through the front door. They were at the wrong end of the room. A lady told the room that this was the worse kept secret of the week and also that 5ive "selled" 7 million albums in the UK.
11.47am Scott started banging on about his children. He has two. J has been on a hammock, Abs' new accent was still ridicu­lous and Richie was 'lounging' across the back of the sofa.
11.52am The shock announce­ment was that there would, for the comeback, be no dance routines.
11.53am It tran­spired that the band have worked with Guy Chambers of Lisa Scott-Lee and Pete Off-Big-Brother fame. But there is no record deal.
11.55am There were not one but two (TWO!) TV crews following them around. Neither had been employed to search for a replace­ment for Sean, who is still working on his solo career…
11.57am Scott told us more about his family.

12.00am It was nearly time for lunch. A lady from 'The Mirror' started asking a lot of questions, none of them about buffets.
12.10am Another lady asked them question after question about money. We thought this was a little rude and, by the looks of things, so did 5ive.
12.15am 5ive had basically had enough and everything ended and there was a lot of screaming. This will make the TV footage very exciting, even if we can help but feel that things had peaked a little, back at the escalatorâ?¦