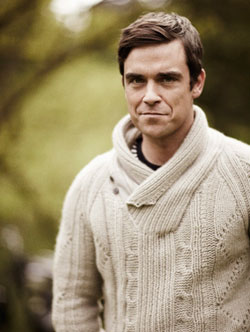 Here's the track­list­ing for Robbie's 'Reality Killed The Video Star' album.
1. 'Morning Sun'
2. 'Bodies'
3. 'You Know Me'
4. 'Blasphemy'
5. 'Do You Mind?'
6. 'Last Days of Disco'
7. 'Somewhere'
8. 'Deceptacon'
9. 'Starstruck'
10. 'Difficult For Weirdos'
11. 'Superblind'
12. 'Won't Do That'
13. 'Morning Sun (Reprise)'

BBC News have a clip of the 'Bodies' video.
Of the tracks we've heard 'You Know Me' is a big, clap-along doo wop number with the pivotal line "since you went away my heart breaks every day, you don't know 'cos you're not there", 'Last Days Of Disco' has some very 'Robbie' lines (of the 'don't call it a comeback', 'stay calm and carry on', 'stand by me I've been stood by you for ages' variety), 'Morning Sun' is a very 'old Robbie' intro­duct­ory number and 'Difficult For Weirdos' (we think, it all got a bit confusing) is a massive epic orches­tro­tronic Hornfest.
'Hurrah.'
Oh and here, if you are inter­ested, is the full-length 'Bodies'.
httpv://www.youtube.com/watch?v=EjA8iJxDOnE

Is it sort of like he hasn't been away, isn't it.