Last night the BBC really went overboard, ded­ic­at­ing a whole sixty minutes on BBC2 to the last ever Top Of The Pops.
Their tactic was to pay tribute to Top Of The Pops with an episode of Top Of The Pops 2. It was hosted by a cast of 'legends', most of whom were binned by the BBC for being out of touch with their audience A DECADE AGO.
If you were nimble with your fingers and paused the screen a few frames into the opening credits, you will have seen this.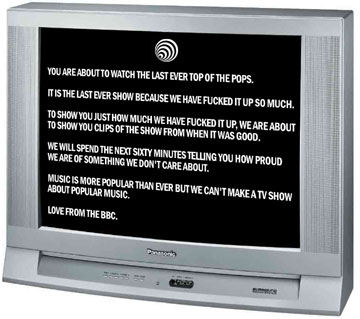 Next Sunday at 7pm on BBC2:
Restoration Village
(Repeat)
Griff Rhys Jones presents a series which invites viewers to save archi­tec­tur­ally and his­tor­ic­ally important buildings scattered across the country's villages. Buildings up for the vote are: a rope factory that produced the sails and rigging that powered Nelson's navy; a chapel that was the spiritual heart of one of Britain's biggest fishing fleets; and a West Country farmstead that has kept rural skills alive for more than 400 years.
Nice!