httpv://www.youtube.com/watch?v=8kmPz5IbU90

As a reminder that you can certainly never accuse Peter Kay of flogging a joke to death until it's just not funny any more
here's the video for the Geraldine McQueen's Christmas single. It's a shame that there's not really any point to the song or the video; after 'The Winners Song' you might have hoped that at least the video would raise some sort of eyebrow in the direction of the music industry's obsession with Christmas as an excuse to hurl shit at the public, but it's unfor­tu­nately a fairly satire-free laugh vacuum which rep­res­ents a bit of a missed opportunity.
The thing is, it's not really even the music industry who are respons­ible for the worst of what we've heard this year. You wouldn't believe the shit we've been sent from companies and brands hoping to get publicity out of Christmas songs. There have been emails with subject lines like "Ben & Jerry's go head to head with the X factor Christmas single so make sure it's cows, not Cow-ell, riding high in the charts this Christmas". Just so many attempts at free publicity dressed up in hamfisted "hey everyone let's teach Simon Cowell a lesson" terms, usually accom­pan­ied by a press release in which William Hill or Paddy Power have supplied odds on the track getting to Number One.
The low point probably came when this…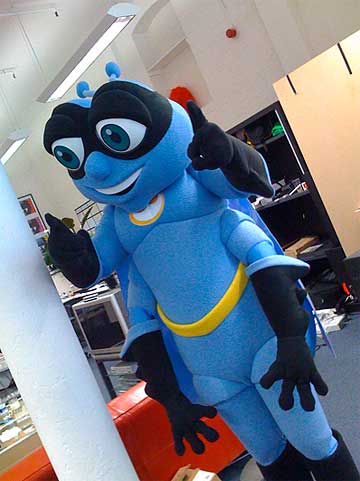 …arrived at Popjustice HQ to promote a single being issued for Christmas by airline Ryanair. We put the CD on the stereo and the man in the suit danced around to the song.
httpv://www.youtube.com/watch?v=2lZEVFACYAc

This is the press release they left behind.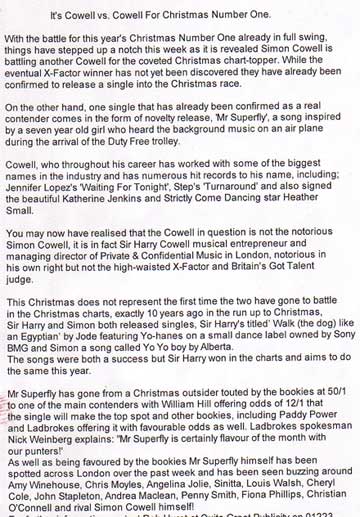 Well done, everybody who was involved in this record. Well done.