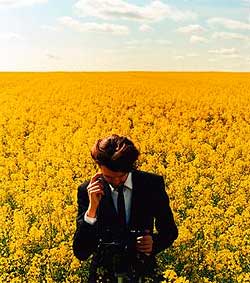 Yesterday's post about the UK's not-very-good Eurovision entry put us on a bit of a downer.
Fortunately there is good news.
Firstly the version of 'That Sounds Good To Me' we featured yesterday is the version that's been played on radio and is not the final version. We are sure the final version of the track will be com­pletely brilliant and everything that is bad about what we heard yesterday (vocal, melody, lyrics etc) will have been magically sorted out in the proper version.
Secondly, that doesn't even really matter because THERE'S LOADS OF GOOD STUFF COMING OUT.
Here is a selective and com­pletely undefin­it­ive list of some good stuff coming up in the next couple of months.
Alexandra Burke feat Pitbull – All Night Long
Allison Iraheta – Friday I'll Be Over You
Alphabeat – DJ
Black Eyed Peas — Imma Be Rocking That Body
Cascada – Pyromania
Delays – Unsung
Diagram Of The Heart – Dead Famous
Donkeyboy – Ambitions
Ellie Goulding – Guns & Horses
Example – Kickstarts
Foals – This Orient
Fyfe Dangerfield (pictured) - Faster Than The Setting Sun
Gabriella Cilmi — Hearts Don't Lie
Goldfrapp – Alive
Gorillaz – Superfast Jellyfish
Grum — Cant Shake This Feeling
The Hoosiers — Choices
Hurts – Better Than Love
Iyaz – Solo
Janelle Monae – Tightrope
Kaci Battaglia – Crazy Possessive
Katie Melua – The Flood
Keane – Stop For A Minute
Kelis – Acapella
Lady Gaga – Alejandro
Lights – Saviour
Marina & The Diamonds – I Am Not A Robot
Mika vs Red One – Kick Ass (We Are Young)
Miley Cyrus – When I Look At You
Mini Viva – One Touch
Night Bus — I Wanna Be You
Ocelot – Beating Hearts
Pendulum – Watercolour
Rihanna – Te Amo
Robyn – Dancing On My Own
Roll Deep – Good Times
Scissor Sisters – Fire With Fire
Sia – Clap Your Hands
Sophie Ellis-Bextor — Bittersweet
The Bang Bang Club – Chemistry
The National – Bloodbuzz Ohio
Timbaland feat Justin Timberlake – Carry Out
Toni Braxton – Yesterday
You'd have to be a world class buffoon not to like at least twelve songs from that list and twelve songs is plenty to be getting on with.
(Christina Aguilera also has a single out.)