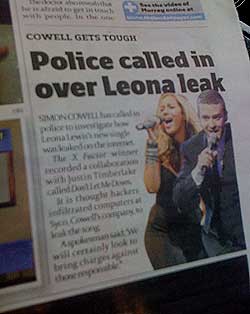 Brilliant.
Absolutely brilliant.
Seriously, 10/10.
A round of applause.
A standing ovation.
Well done to everybody involved in this news story.
We love the way it's been reported in The Times. Even the opening line. "Leona Lewis and Simon Cowell have become the victims of the highest-profile hacking case the music industry has ever seen." Alexandra Burke even gets a mention.
It seems slightly odd that news of the police invest­ig­a­tion has been issued like this, what with it giving the hackers a heads up that they're being tracked down and everything.
Having said that, it's difficult to see what benefit would come from this story getting out. Other than it reminding everybody, three days before the new series of The X‑Factor starts, that the show is capable of producing inter­na­tional super­stars worthy of Justin Timberlake duets. And planting the idea in the public's mind that Leona Lewis has a new album coming out soon — an album of such huge interest that people are actually hacking into servers to hear it. And Alexandra's got an album coming too?
AMAZING.
Just amazing.