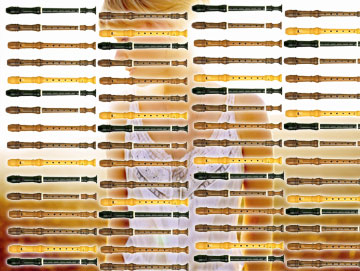 There can be little double that the humble recorder is the worst and most painfully ear-offending musical instru­ment on the face of the planet. For such an unas­sum­ing-looking item, the recorder is capable of some terrible noises, and what makes this sonic weapon all the more dangerous is that it is priced so that any teenager can easily afford to carry one. Successive gov­ern­ments have refused to take action in spite of proof that in the wrong hands a recorder can be deadly. In fact, it can be pretty dev­ast­at­ing in the right hands.
Anyway, Dido has got a song on her new album WITH A RECORDER SOLO ON IT. Hence what we think might be the worst graphic we have ever placed on Popjustice: Dido with some recorders in front of her. It's a graphic which means nothing. What we should probably have done was find a pho­to­graph of Dido running away from something (or someone else running away from something, with Dido's head stuck on it). Then we could have put one large recorder into the pho­to­graph. Even that would have only been worthy of a 6/10 rating.
Here is some of the above-mentioned recorder solo, from a song called 'Grafton Street'.
[audio:graftonstreet.mp3]
Good Lord, it's like living next to a primary school.
As you will be able to tell from the clip the pro­duc­tion on the track is Actually Jolly Nice, a 'motif' which runs through quite a few tracks on the album. So while the prospect of a new Dido album might not exactly cause your chills to multiply a quick skip through the thirty second clips on iTunes might well be in order, whenever the album is released. It might be today actually. It's certainly imminent. Take a look on iTunes when you're finished reading this rubbish and if it's not there get 'Keep Her' from the Saturdays album instead to make the visit worth your while.