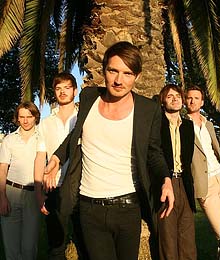 The Feeling are back and their new album is very good.
Because they are back they are doing some live shows and one of these is at London's Porchester Hall on January 24.
They'll be playing hits 'old and new' and the whole thing is being filmed for Channel 4.
We have TEN TICKETS to give away for this The Feeling extra­vag­anza. Which means that you can go, with NINE FRIENDS.
To win, all you have to do is to email us…

…and tell us which celebrity you'd like to take with you as one of your nine friends, and why. Best answer wins — com­pet­i­tion closes tomorrow (Thursday) at 4pm.