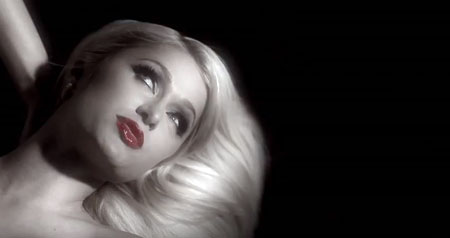 Over the last month or so we have become increas­ingly excited by the notion that the current LOLpop club­non­sense genre of doom will — must — soon be reaching its nadir.

The excite­ment works on two levels. First there's the point that having reached its most depress­ing low, pop can sub­sequently only get better. The healing process can start, and a new pop can emerge. Then, of course, there's the delicious prospect of the current pop era's worst song. What would it sound like? What would the lyrics be? What would happen in the video? More import­antly, who would be in the driving seat?

As you can imagine the news that Paris Hilton was working on new material with LMFAO got us very excited indeed. Would this, perhaps, be the load of old shit we'd been hoping for?

Well that material is still to come, but the first taste of Paris' new material, a song called 'Drunk Text' which is an absurd mix of Lil' Louis' 'I Called U' and Sak Noel's 'Loca People' with lines like "no one is safe in the Twittersphere any more", is dis­ap­point­ingly unawful. Obviously Paris has form in the whole listen­able tuneage stakes what with 'Stars Are Blind' and 'Nothing In This World' both being tri­umphant pop escapades of the highest order, but we were really hoping for something far worse than this.

[youtube]0UwST1Ft8YQ[/youtube]

We haven't given up hope com­pletely and we've still got our fingers crossed for some proper shit from the LMFAO stuff, but we might need to start thinking about living in a world where the 21st century's worst pop record is made by someone other than Paris Hilton.