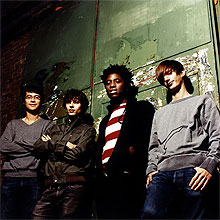 We were contacted this week by the PR company for amazing ask-us-anything text service AQA. Somehow — we can only presume money is involved — they've roped in Kele from Bloc Party for a webchat (TODAY AT 11AM) and, as part of this deal, Kele was obliged to answer questions submitted by websites like Popjustice.
"Kele is not willing to talk about his politics, personal life, or sexuality," we were warned.
The whole thing is a bit tragic really, from Kele's per­spect­ive, but we thought we'd send in some questions anyway to see what he had to say about thing that aren't political, personal or sexual ('inter­est­ing').
Here is what he emailed back.

Why isn't grapefruit more popular?
"Well it doesn't really have much of a taste, it's a non-fruit, like a cucumber or something? I'm not a fan."
Would the world be a better place if everyone was the same height?
"No I think that different heights give different views on the world. I'm against the homo­gen­isa­tion of people, the best thing about being human is that you're unique."
If Philip Schofield died peace­fully in his sleep at the age of 70, how would his death be reported by the BBC?
"Well as he defected to ITV, maybe their coverage would not be so glowing. I expect ITV's would be a lot more moving."
Should fun class a drugs like cocaine and ecstasy be made legal?
[No answer]
Would you rather live in a ditch or a well?
"Probably a ditch, at least you could see cars going past, at least you'd be above ground. I wouldn't like to be trapped so far under­ground in a well."
Will the world end in the daytime or will the world end in the night time?
"I get the sense that the world will end in day time. Everyone expects some huge apo­ca­lyptic night event. Coming in the day will catch everyone off guard."
What do you think of the Pin Me Down single?
"I haven't heard it"
Do you own a sink plunger and how much did it cost? You can buy them in Tesco for £1.
"I don't own a sink plunger but I really ought to get one. So far the sink in my new house hasn't been plugged up yet, I've been lucky."

Do you think Tesco are able to achieve this price point due to volume orders made possible by the reappear­ance of the Daleks in Dr Who?
"Everything in Tescos is cheap though. Isn't that how they stay afloat by under­cut­ting everything? I'm not sure if the daleks had much to do with it."
How much are you being paid to answer these questions?
[No answer]
Poor Kele. :(
Here is the stuff we were asked to include in exchange for this exclusive (non-exclusive) insight into the non-political, non-personal, non-sexual mind of a musical genius.
"Kele Okereke will be answering the nation's questions during a live Any Questions Answered 63336 web chat this Friday, June 6th, at 11am. To get involved log onto www.aqa.63336.com where you can also ask a free question. To have AQA answer your question,simply text it 63336. Questions cost a text, answers cost a pound."
There you go.