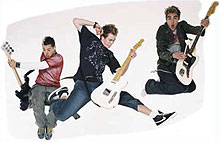 Yahoo are reporting that the High Court thing* involving two ex-members of Busted, Ki and Owen, suing James and Matt has come to an end, and James and Matt have won.
The court case was all about Ki and Owen claiming they'd written Busted songs etc etc etc.
The judge said of Ki: "if he
did believe the evidence he gave to the court, it can only be because
he has indulged in very extensive self-serving recon­struc­tion in the
period between the relevant events and the time of the trial and has
now convinced himself that his recon­struc­ted version of events really
happened".
Owen, meanwhile, was "not a reliable witness either. He mani­fes­ted a high degree of
confusion and a failure to grasp the detail in relation to many of the
sig­ni­fic­ant events".
The case has been going on for ages so Ki and Owen must be feeling fairly dis­ap­poin­ted. On the other hand and for reasons we probably can't go into here we can't help but not really give a shit, and we'd like to wish Ki and Owen the very worst of luck in their future careers.
* Sorry if we're baffling you with legal speak