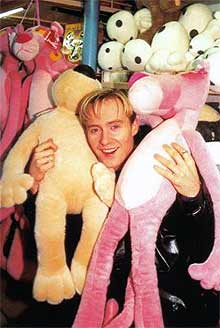 We know this will come as a shock to many of you but H from Steps is a big old gay, as revealed in this interview in today's The Sun.
H says that he could not come out of the closet because nobody else in his Welsh village was gay.
That is certainly a good point and it is com­pletely NOT the case that there were hundreds of young gay men just like H in Welsh villages who also felt it necessary to stay in the closet — who might still be living a lie today — who might have felt com­fort­able coming out if H had been honest about his sexuality. Although that might have required some sense of being an inspir­a­tion, or a role model, to young people, and that's not really what popstars do these days.
BUT SERIOUSLY
Ladies, we know this must be a difficult time for you and until the official helpline is announced, you can contact The Samaritans on 08457 90 90 90.