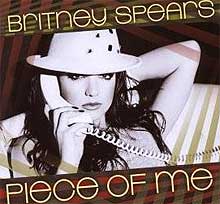 The more we think about Britney's 'Piece Of Me', the more we think it might be our favourite Britney single 'package' for some time.
First off there's the fact that it's a brilliant song. "Oh boo hoo she didn't write it herself." Who cares.
Then there are the remixes, like the Bimbo Jones one we featured as Song Of The Day last year, which was quite good but actually not as good as this one…
[audio:pieceofmeremix2.mp3]
…which is Bloodshy & Avant's 'Boz O Lo' remix. Bloodshy & Avant produced the album version so if they want to dick around with it they are quite within their rights thank you very much. The new mix turns a song which already sounds a bit like Madonna's 'American Life' into a song which sounds a bit like the Felix Da Housecat remix of Madonna's 'American Life'.
Now let us turn our attention to the video clip. It's got paparazzi in it so it's kind of an update on the 'Lucky' video — that's right, viewers, she's been a‑moanin' for over seven years — and Britney's solo bits are total lameorama but the screwing up of showbiz mag covers is Quite Good.
httpv://www.youtube.com/watch?v=k9S0IHcTUvE

Our favourite bit is where Britney dances with four backing dancers in a bathroom, an odd but appealing window to a parallel pop universe in which Britney is one member of a five-piece girlgroup.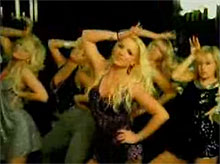 'Piece Of Me' would be amazing if there were five girls singing it. One could do the "I'm Mrs Lifestyles Of The Rich & Famous", another (it would have to be Britney) would do "I'm Mrs Oh My God That Britney's Shameless". Girl three would sing "I'm Mrs Extra Extra This Just In", then girls four and five would be Mrs She's Too Fat and Mrs She's Too Thin. As a twist the band member most harangued by the media for being 'dan­ger­ously thin' would be Mrs Fat and the band member attacked for being over­weight would be Mrs Thin.
On the other hand, imagine FIVE BRITNEYS IN ONE BAND. Five Britneys would be handy because there would be four spares if one of them was busy.
Tragically, of course, there is only one Britney. But one is better than none at all.