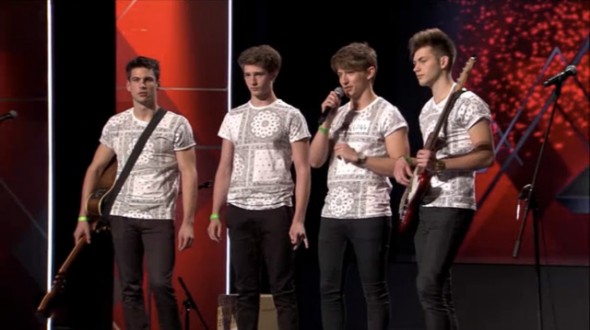 Where are they from?
Spoon are from Hungary.
Who are they?
Spoon — A BOYBAND CALLED SPOON — were first seen by Hungarian audiences on this year's X Faktor, which our rudi­ment­ary Hungarian/English trans­la­tion skills tell us is, quite obviously, the Hungarian version of The Voice.
What do they do?
They wear matching t‑shirts. They play guitars, or at least two of them do. They have hair. They can stand up straight, which seems to suggest they all have spines. Look there are only so many pieces of inform­a­tion we can really extract from a couple of photos and one bit of audio. We just wanted to write about a boyband called Spoon. Did they get through to the next stage of X Faktor? Were they divided into two acts: one playing guitars, the others just singing? Who knows? Apart from anyone who watches TV in Hungary, but even so, who really knows?
Did they do the Ice Bucket Challenge?
There is no evidence of Spoon taking part in the Ice Bucket Challenge — though there is nothing to suggest that they would decline if nominated. Actually is the Ice Bucket Challenge even still happening or did it just implode once it got to Russ from Scooch?
What do their fans say?
It would be unfair to say that Spoon have no fans - this page has 970 likes, for instance — but the internet doesn't seem to be groaning under the weight of Spoon fans attempt­ing to trend the name of their favourite act. What are Spoon fans even called? Spooners? Spoonerists? SPOONBENDERS? Hard to say.
What is their best song?
http://www.youtube.com/watch?v=YtDWvbobJuM
It would have to be what is appar­ently their only song: their own version of Macklemore & Ryan Lewis' 'Can't Hold Us'. Perhaps they need to do some more covers to really engage with potential fans. We propose 'How Spoon Is Now', 'Dude Looks Like A Ladle' and'You Cutlery Love'.
What's next?
To all utensil purposes world dom­in­a­tion seems a given.
Where are they?
They appear to be on Facebook.